At Sanki Co., Ltd., employees actively acquire public qualifications.
A list of officially qualified persons
1級管工事施工管理技士
1/13
2級管工事施工管理技士
2/13
給水装置工事主任技術者
3/13
2級建設業経理士
2/13
第1種電気工事士
1/13
第2種電気工事士
4/13
認定電気工事従事者
2/13
ボイラー取扱技能者
1/13
冷媒回収技術者
9/13
第1種冷媒フロン類取扱技術者
1/13
安全衛生推進者
10/13
職長教育
10/13
石綿(アスベスト)作業主任者
8/13
酸素欠乏危険作業業務
8/13
有機溶剤取扱技能者
1/13
危険物取扱技能
1/13
第2種冷凍空調技士
1/13
高所作業者取扱技能者
8/13
携帯用グラインダー・
高速カッター等取扱技能者
4/13
第2種冷媒フロン類取扱技術者
5/13
あと施工アンカー施工技術士
4/13
ガス溶接
9/13
アーク溶接
2/13
太陽光発電システム施工者
1/13
ガス可とう管接続工事監督者
4/13
ガス消費機器設置工事監督者
3/13
足場の組立て等作業主任者
3/13
玉掛技能者
6/13
小型移動式クレーン
2/13
Qualifications are a tangible form of relief and effort.
The term "worker" refers to having a variety of different skills. At Sanki, we think that customers are relieved to know of the legitimate qualifications acquired by workers in exchange for the worker's efforts.
The denominator includes all of the employees of Sanki, including accounting operations and managerial positions; therefore, it may be physically difficult for this graph to become 100%.
However, by filling in this entire graph as a goal, we hope to display the skills for the customer and the process of the effort that goes into acquiring the skill, and continue to post this graph on our homepage.
Introduction of Workers
I want to stay a worker who can see the faces and personalities of people.
The skills and qualifications that can be seen were introduced above. Now, we would like to introduce Sanki's proud workers.
Even for customers who have already met one of our workers, we want others to know our workers have other skills and special abilities, and so we would be grateful if you would use the workers of Sanki as an even closer partner.
We will post the introductions of our workers one at a time, so please look forward to it.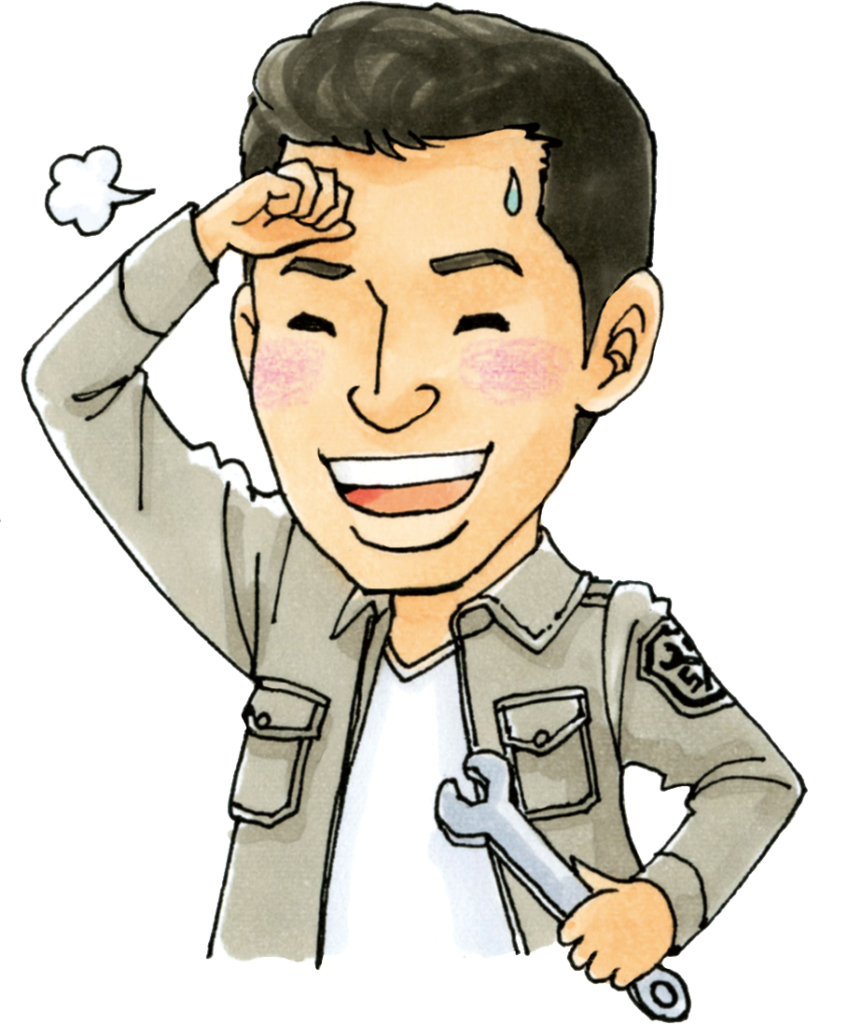 Worker File 01
Kazuhiro Maruyama

Date of Birth/Birthplace
January 8, Arakawa-ku, Tokyo, 1973
blood type
type B
Family structure
Wife, First Born Daughter, Second Born Daughter, First Born Son
Introduction and Comments from the President
Let's start with Kazuhiro Maruyama who is a representative of Sanki.
Kazuhiro was surrounded by the workers of Sanki from an early age and grew up with workers and office workers as his fathers and mothers.
Even now, after he inherited the business and became a representative, he has not forgotten his position as a representative of a group of professionals, and he actively accepts the challenges of qualification tests to fill in the graph shown above.
Recently, he passed the First-Class Electric Works Execution Manager Examination!